Discover more from Content Overload
Thoughts on Media, Entertainment, Books, and more from Web Barr
Jack Ryan is the Future of Amazon Prime Video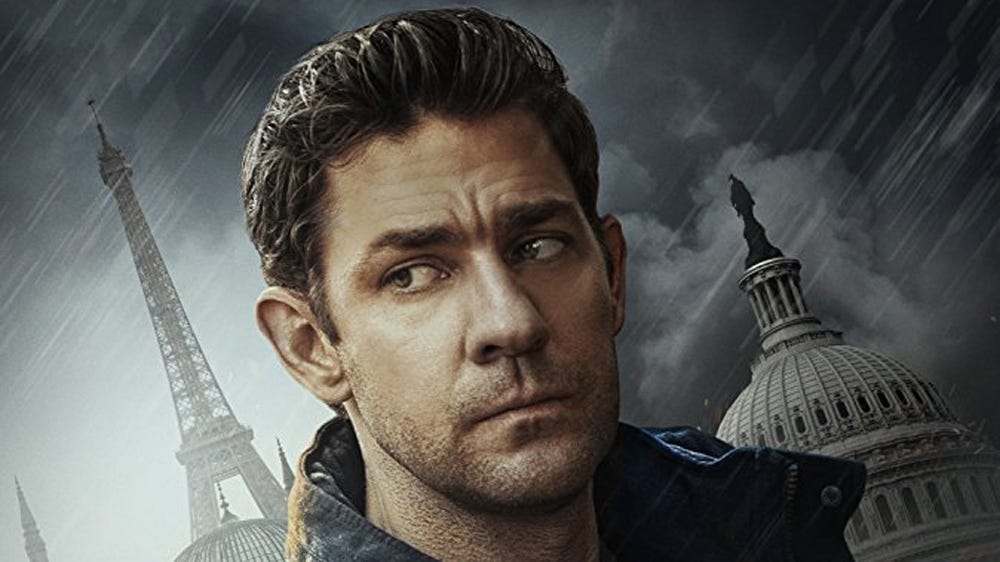 We've all seen this show before. The American hotshot/genius takes on terrorists abroad while battling bureaucracy within.
Since announcing the reboot of the famed Tom Clancy IP over a year ago, Amazon has been promoting Jack Ryan like crazy (complete with a Super Bowl ad last February) and it's actually good!
Is it anything new? Nope!
Does it need to be? Nope!
Fifteen years ago, CBS, a network full of reboots of "classics" like Hawaii Five-O & Magnum P.I. would have lined up Jack Ryan for a nice 6+ year run on "America's Most Watched Network." It's likely that this run would've fallen somewhere between The Blacklist and 24 in terms of quality, reach and ultimately, repetition¹. That is to say, the first season season would be good enough to convince viewers to watch another season, but each new season would've become more repetitive, meanwhile budgets and quality would decrease as the network drives the show towards syndication.
Amazon is different.
Amazon doesn't need to drive subscriptions like Netflix, they don't need prestige television like HBO and they don't need big name CPG advertisers to support content like the networks do. They have Amazon Prime, which according to Amazon CEO Jeff Bezos, has over 100 million subscribers globally.
Instead, Amazon desires high quality television programming that caters towards the masses. The masses being either those who haven't subscribed to Amazon Prime yet or those already inside the flywheel, happy to receive more "free" add-ons like Prime Video that in addition to free two-day shipping, makes customers happy. That's the Amazon motto!
Prestige TV, the type of programming that HBO prides itself on, doesn't add as much value for Amazon², which is likely why much of their recent programming was cancelled including 2016 Golden Globe winning comedy Mozart in the Jungle. It's also why Jeff Bezos recently approved an extremely ambitious and expensive ($250 million just for the rights) project for new The Lord of the Rings prequels. Amazon wants programming that engages their audience, shows that people feel they have to watch or else they're missing out on the discussion (aka the water cooler in 2018). Basically, they want their own Game of Thrones, which is every studio and content platform's "Holy Grail" in today's IP driven media world. While this presents a more expensive strategy, it makes sense. Ultimately, Jack Ryan isn't Amazon's "Thrones" but the show's quality is obvious³.
Think about it, Amazon is already experimenting with NFL coverage. Beginning last season and continuing this and next season, Amazon will have non-exclusive rights to Thursday night NFL games. It's no wonder some analysts at MoffettNathanson think it's logical for Amazon to buy CBS. Given the turmoil at CBS/Viacom, I wouldn't be shocked.
Additionally, it's important to mention what I think has been one of the more under discussed items on Prime Video and that's Amazon Channels. Leveraging their Prime Video platform and superior user/shopping experience, Amazon sells subscriptions for HBO, Showtime, CBS All Access, and many more niche OTT services for viewing inside Prime Video. What this means is that Amazon Prime Video is trying to be the place where you consume and purchase all video content—long and short. Amazon's power as a reseller of OTT subscriptions has been expanding rapidly as Variety reported in May that "53 percent of all consumers who don't get HBO through their pay TV provider are purchasing it via Amazon channels." That is an unbelievable stat! While it's a stark contrast to Netflix's strategy⁴, it's a very compelling route for Amazon to try to own a larger share of the TV.
Amazon is trying to turn Amazon Prime Video into a one-stop shop to watch high quality television, sports like the NFL⁵, subscribe to other OTT networks, all while elevating their own show quality, distribution, and viewing experience; meanwhile, they're delighting audiences who won't have to endure the same tiresome ad experience of linear television!
Back to Jack Ryan, is this the Jack Ryan we all know?
Kinda but not really! It's an IP play because Hollywood in 2018 bets on winners and Jack Ryan is a name that audiences already recognize and doesn't need to be built from scratch.
Prior to watching Jack Ryan, my initial thoughts were: Why not leverage the Tom Clancy brand and create a new character complete with it's own IP and go from there?
That might've worked in the past. But today, when you're competing against Netflix, Hulu, HBO, Showtime, Instagram, Twitter, network television and more, you need wins and Amazon wants proven winners in their Amazon Prime Video stable. Jack Ryan has been around on film since 1990's The Hunt for Red October and has always been a winner especially with demographics who are now aging older than 45-years-old. Expanding this IP to create what Jack Ryan showrunner Carlton Cuse calls an "eight-hour feature film" each season makes sense in today's media world.
So…Should you watch the eight-episode Jack Ryan season?
Definitely!
It's entertaining and John Krasinski does a great job making the audience forget his past as Jim on The Office.
I'm a big fan of what many call "prestige TV"⁶ and part of me wishes Amazon had taken bigger risks in their storytelling, but they didn't need to. They got a star in John Krasinski with a great supporting cast, shot the show beautifully on three continents, and they didn't bloat the show with unnecessary subplots or too many episodes as Netflix is known to do.
I'm convinced that this type of programming best illustrates Amazon Video's future. Jack Ryan isn't "prestige TV," nor does it *feel* like a Netflix show, it actually feels unique to Amazon.
Jack Ryan works, but it works best for Amazon.
Rating: ⭐️⭐️⭐️✨ (3.5/5)

Watch Tom Clancy's Jack Ryan on Amazon
---
P.S. Since 1990, CIA analyst Jack Ryan has been played by five big name actors: Alec Baldwin, Harrison Ford, Ben Affleck, Chris Pine & John Krasinski.

Of the five, Harrison Ford is easily my favorite Jack Ryan. What's unbelievable was Ford's ability to play three iconic characters: Han Solo, Indiana Jones and Jack Ryan and make each completely unique to the audience.
Ford's ability to create a reality distortion field allowed audiences to believe that they were watching Han Solo or Indiana Jones; not the actor Harrison Ford playing those roles and that is very impressive and incredibly difficult.
Unlike Al Pacino's incredible performances as Michael Corleone, Tony Montana, Lefty, & Vincent Hanna over a twenty-plus year span, Harrison Ford didn't have additional makeup or natural aging to easily differentiate the "look" of each of his major characters. Instead, he brought an attitude that differentiated each and in a sense, I think it's very under discussed but insanely impressive.
---
Footnotes
¹ It's no surprise that Carlton Cuse, Executive Producer for Lost is the showrunner on Jack Ryan and has indicated a desire for each season to be a self contained "eight-hour feature film." 
*Warning: Clicking the link leads to spoilers!*
² Note: Amazon has licensed many classic HBO shows like The Wire, The Sopranos, Curb Your Enthusiasm & more for Prime subscribers to watch on Prime Video.
³ Season one of Jack Ryan cost between $8 million to $10 million per episode and has already been renewed for season 2.
⁴ IMO, the best source on Netflix's strategies is Matthew Ball and his incredible posts on Netflix.
⁵ Amazon has many other sporting rights including the international streaming rights to the English Premier League and U.S. Open tennis tournament.
⁶ Homeland's first season is a great comparison of a prestige TV show similar to Jack Ryan.
---
Thanks for reading! You can subscribe here and expect more posts containing originals; as well as, curated links and analysis soon!

Special thanks to Noah Chestnut for his feedback on this post.