Discover more from Content Overload
Thoughts on Media, Entertainment, Books, and more from Web Barr
The Year in Books
My Books of the Year including Incredible Facts, Awesome Stats and More!
Hi friends,
It's been a great year! A great year for movies, a great year for television but an especially great year for reading. At the beginning of 2018, I set an overly ambitious goal of reading 50 books and I've almost reached my goal—49 and counting!
But if I'm being honest, setting such an arbitrarily high number really didn't make much sense.
It reminds me of a story from my freshman year of college when I met culinary legend Wolfgang Puck at Spago. After an amazing meal, Chef Puck asked me how the food was. Being young and naive, I said it was: "excellent but there wasn't much of it" (Doh!) to which Puck responded, "it's about quality, not quantity."
Amen!
As the year progressed, the obvious thing happened and I subconsciously started focusing on shorter books (250-350 pages) to reach my goal. I mean, it's easier to pick up a 300 page book than a Caro behemoth. In Dr. Bob Rotella's "How Champions Think: In Sports & Life," the esteemed sports psychologist explains that, "the goals you set for yourself are, in some ways, also limits…I rarely see anyone who exceeds the goal he's set for himself."
Makes sense!
Long story short, I'll still have a goal next year but it won't be as many books so that I can better focus on quality not quantity.
Still, it was a great year for reading. Below I've collected my favorite reads along with some lessons, stats, quotes and random facts.
If you have any questions or want to see my entire list of books from 2018, here's my ongoing Twitter 📚 thread which will start anew on January 1st.
As always, if you have any questions or comments, feel free to email, DM or shoot me a text!
Happy New Year!
Web
2018 Book of the Year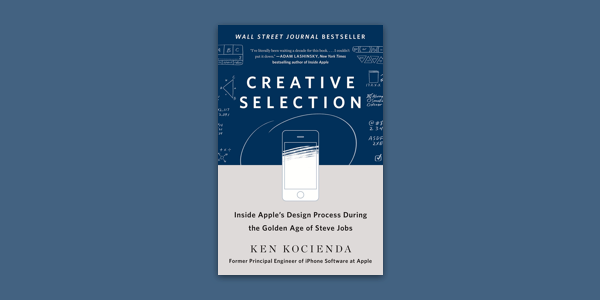 By Ken Kocienda
Creative Selection is the first firsthand narrative to come from an actual member of the super secret "Project Purple" iPhone team and it does not disappoint.
iPhone Engineer Ken Kocienda delivers an inspiring tale of how a very small team was picked to make the most influential device ever and how they delivered on the vision set forth by Steve Jobs.
The book begins as Kocienda explains how he presented work to Steve Jobs and how Steve critiqued his work in regular product critiques and it's nothing short of incredible. Honestly, the opening chapter is one of the best articulations of what a successful product critique is that I've read. It should be required reading!
What I found particularly interesting was not the amount of work that it takes to make great products (it's enormous and basically indescribable) but that very small teams that were able to deliver on them. For example, just two people created Safari and only one designed and engineered the iOS keyboard (the author).
Think about that!
One thing that makes Apple so special is that their product development and design processes are different than most Silicon Valley giants. One aspect Kocienda describes and I'm a huge fan of Apple's Directly Responsible Individual (DRI) model. For each project, one person is the DRI and thus, the buck stops with them but with that power comes a lot of responsibility.
A MUST READ for all designers, Apple fans, product folks, media consumers and more!
DECISIONS
"Decisiveness was crucial throughout. At the pre-Steve level, Scott (Forstall) was the executive editor. He was the "decider." Every Apple demo review had a decider, the person with the sole authority to approve or not and the prerogative to declare what would happen next."
APPLE'S CULTURE OF SECRECY
Most people who worked on Project Purple didn't know the official name of the product until the day of the iPhone keynote on January 10th, 2007.
---
2018 Book of the Year - Runner Up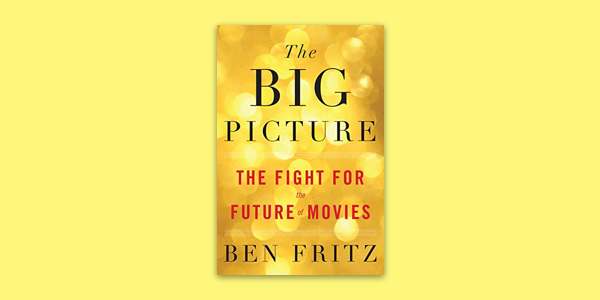 By Ben Fritz
The Big Picture explains the "New Hollywood" paradigm better than any other book I've read as it covers the radical transformation of the movie industry over the last 15 years.
What's unique about this book is that much of the source material comes from the 2014 Sony hack. Because of the hack, we got real unfiltered insights from executives like Sony's Amy Pascal into running a top studio and the issues with running a struggling studio in a world that had shifted from movie stars to franchises and cinematic universes.

Today, the new Hollywood reality is movie stars don't matter nearly as much as they used to; franchises and IP do.
If you're interested in media, Disney, Netflix, Will Smith and Adam Sandler, Hollywood, then this is a must read!
DISNEY'S FOCUS
"When you're releasing a new film every two weeks, no wonder the returns are so low, because there's no focus." - Bob Iger
Disney's Bob Iger changed Hollywood by being contrarian and making FEWER movies. Less movies meant a greater focus on franchises, IP, and cinematic universes.
SEQUELS RULE
Of the top 50 movies at the global box office between 2012 and 2016, 43 were sequels, spinoffs, adaptations of popular comic books and young-adult novels (Five of the remaining seven were family animation, the sole genre in which originality still consistently works.)
BREAKING BAD CLEANS UP
By 2016, the total profit from "Breaking Bad" was estimated to be greater than $400 million, which makes it the second most profitable piece of entertainment content made by Sony in the 21st century behind only the original Spider-Man film.
The DVD profit alone was over $215 million.

JONAH HILL SAID WHAT?
"Jump Street merging with Men in Black I think that's clean and rad and powerful"
- Jonah Hill on Sony's idiotic pitch to combine the 'Jump Street' and 'Men in Black' franchises.
---
2018 Book of the Year - Runner Up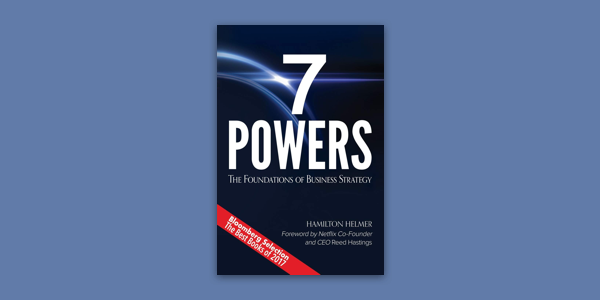 I don't read many strategy books. I find that they normally don't deliver on their intentions but I read 7 Powers on a recommendation from Keith Rabois.
Though it's only 170 pages, it's quite dense and requires a lot of thought to really understand what Hamilton is explaining. That said, 7 Powers is invaluable and is a book that I will re-read and use for years!
Essentially, 7 Powers explains that there are seven ways to create strategic leverage: Scale Economies, Network Economies, Counter Positioning, Switching Costs, Branding, Cornered Resource, and Process Power.
Not only should businesses know which of the 7 Powers will be their strategy, but also how and when to build and execute on them.
POWER: The set of conditions creating the potential for persistent differential returns ALL POWER starts with invention
INVENTION: Invention can lead to your company capturing a larger part of the value chain. The 7 Powers determine how much.
If you're interested in investing (VC, value, growth…this books applies to all) or building companies with real competitive advantages that win, this is a valuable read.

NETFLIX CASE STUDY
Hamilton uses Netflix's pivot from DVD rentals to streaming licensed content to Netflix Originals as one of the primary case studies to explain scale economies and in doing so, explains what makes their move to original content so disruptive. The move from Hollywood's century-old system of variable costs to Netflix's fixed costs with their subscription model is that transformative.
"…If the television networks stop selling shows…the company has a game plan. We just do more originals." - Reed Hastings
If you're looking to learn more about moats and what makes a moat in today's world; as well as, goals, objectives and what real strategy is, look no further!
---
The Best of 2018
The books below are the best books I read this year. While some are newly published and some are new-ish, there's also a couple that are out-of-print today. Thankfully, we have Amazon and the ability to get almost any book ever published delivered anywhere in the U.S. within two days for free.
Instead of ranking all of the books in order, I've arranged them by genre. I rate each book I read on scale of 1-5. A ⭐️⭐️⭐️⭐️⭐️book is a truly excellent book and the books listed below were all ranked ⭐️⭐️⭐️⭐️⭐️. (Note: A 4⭐️ book is still a very good book!)
Some context into my reading process: While reading, I highlight noteworthy passages and interesting quotes. After finishing each book, I take photos of each highlighted passage and save them to specific folders on my iPhone which I tend to randomly review a couple times a year.
This year, there were 851 passages in my "Book Passages" folder, 98 quotes in my "Best Quotes" folder, 180 facts in my "Best Stories/Facts" folder and 103 items in my "Best Advice" folder.
It's a system that works for me because unlike most people, I don't enjoy reading on a Kindle. Over the years, I've owned two Kindles and both times I've quit them almost immediately. I wish I enjoyed reading on a Kindle but I don't. I'm a print guy!
This system works for me but if you have a better system, please let me know and I'll try it out!
Without further ado, here are the best books I read in 2018.
MEDIA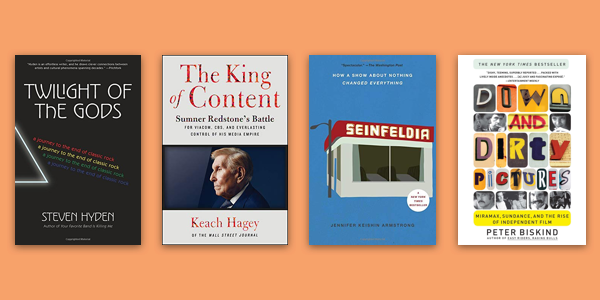 By Steven Hyden, 2018
The crux of Twilight of the Gods is that in the next 10-15 years most of the rock stars from the 60s/70s will be gone and what happens then to classic rock? Steven Hyden explains and answers this question while explaining what classic rock is?
Hyden explains in his classic rock history meets music philosophy book that his childhood heroes weren't athletes or superheroes but rock stars and they're all dying.
I loved all of it!
ARE ALGORITHMS ARE RUINING MUSIC?
Our current world is a place where algorithms help us find an approximation of what we think we want. But the best albums deliver something you never knew you wanted.
I THINK ABOUT THIS EVERY DAY
People who were born into the streaming age, they don't know what they have…"Everything" has always been possible, so it sort of feels like nothing. The internet isn't nearly as good at telling stories as the radio was.
---
By Keach Hagley, 2018
This book on Sumner Redstone's media empire has it all. There's the history of the movie industry, the history of Paramount, MTV, Tom Freston, Barry Diller, girlfriends, countless bad decisions, and of course, too many lawsuits to count!
Viacom had the best brands in cable and squandered them. They ignored the Internet, fired creative geniuses and inserted highly paid bean counters who were 'yes men' to the Redstones.
---
By Jennifer Keishin Armstrong, 2017
LET CREATORS CREATE: A LESSON
One of the keys to Seinfeld's success was for NBC executives who had never seen a show like Seinfeld to get out of the way and let Larry David and Jerry Seinfeld run with it (this is a general theme I've noticed with the biggest successes in entertainment—I'll write more about it another time). Building this structure wasn't easy (it took a lot of luck and timing) but letting creators create and getting out of their way was vital to the success of Seinfeld.
FRESH FACT
Larry David replaced most of the show's writers each season to keep the show fresh.
SHOW ME THE MONEY!
In Seinfeld's final season, NBC made $550,000 per 30-second ad spot which equated to more than $200 million in earnings after ad agency commissions. Even after paying Castle Rock its licensing fee, NBC made $150 million per year on Seinfeld. That was just the value to Seinfeld but it's lead in and after shows increased in value as well.
REALLY💃?
Elaine's dance moves were inspired by Lorne Michaels.
When former SNL writer Spike Feresten joined the Seinfeld writing staff, he told stories of Lorne's infamous dance moves which eventually served as the inspiration for Elaine's terrible dance moves that were eventually let loose at a company party.
---
By Peter Biskind, 2004
Despite being published in 2004, Down and Dirty Pictures remains more relevant than ever. It's a timely read on power, storytelling and distribution in Hollywood.
From showing the extent of the Weinstein's gross power in Hollywood—to the creation and growth of Sundance—to the explosion of independent film in the 90s, Biskind covers much that's still pertinent today.
Before reading I didn't know much about the Weinstein's level of power and influence in Hollywood in the 1990s/2000s. Beyond shedding a horrific light on them, Biskind excels at explaining indie film financing, theater distribution, points on movies and why some movies we think were super successful, weren't.

If you're interested in '90s indie films, financing in Hollywood, how Miramax grew, and Tarantino, then you'll enjoy it.

EGO AND GREED
This business is about ego and greed. Harvey is ego, Bob is greed - A former Miramax executive
---
STRATEGY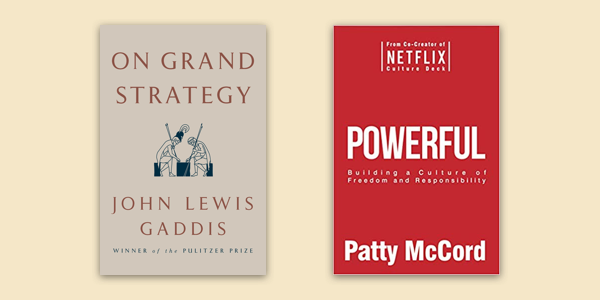 By John Lewis Gaddis, 2018
On Grand Strategy explains how powerful people throughout history like Xerxes, Julius Caesar, Napoleon, Queen Elizabeth I, Lincoln and many more played the hedgehog-fox roles towards either success or failure.
Little things add up in unpredictably big ways—and yet, leaders can't let uncertainties paralyze them. They must appear to know what they're doing, even when they don't.
John Lewis Gaddis on Xerxes crossing the Hellespont
F. SCOTT FITZGERALD'S TEST FOR A FIRST-RATE INTELLIGENCE
"The ability to hold two opposed ideas in the mind at the same time, and still retain the ability to function"
COMMON SENSE
Common sense is like oxygen, the higher you go; the thinner it gets.
OOPS! NOSE JOB!
After Antony and Cleopatra committed suicide, Octavian visited Alexandria and went to pay his respect at the tomb of Alexander the Great:
The coffin was opened, but while placing a crown on the embalmed corpse, the new ruler of the known world inadvertently knocked off the former ruler's nose.
---
By Patty McCord, 2018
A business leader's job is to create great teams that do amazing work on time. That's it. That's the job of management.
Powerful explains how to create great teams that do amazing work. Patty McCord, who previously ran HR at Netflix explains how Netflix built their famous culture.
Some parts of Powerful had me nodding in approval and others I was a bit surprised about but it's a valuable book with good lessons nonetheless.

CULTURE
Culture is the strategy of how you work. And if people believe it is a strategy and that it is important, then they will help you think about it deeply and try things.
- Jessica Neil, former VP of HR at Netflix
TRANSPARENCY
The more time managers spend communicating and elaborating and being transparent about the job to be done, about the challenges the business is facing and the larger competitive context, the less important policies, approvals and incentives are.
ON FACTS
People's opinions should always be fact based.

Have an opinion; take a stand; be right most of the time.

One of the great dangers in business is people who are great at winning an argument due to their powers of persuasion rather than the merits of their case.
---
TECH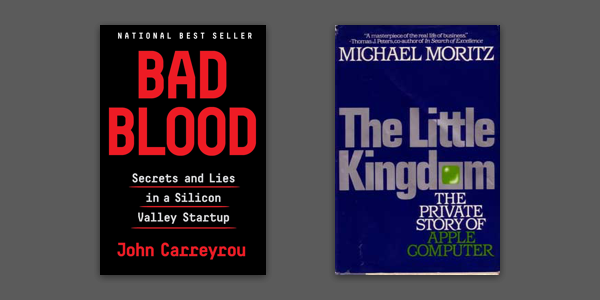 By John Carreyrou, 2018
Bad Blood is basically impossible to put down.
John Carreyrou deserves every accolade for his work on exposing the Theranos fraud, as do the whistleblowers at Theranos.
Bad Blood has been reviewed a lot but the best review I read was Brent Beshore's Tweetstorm. Check it out!

SCIENCE IS DIFFICULT
On the scientific difficulty of achieving what Theranos purported with just a prick of a finger, one scientist said:
"I'd be less surprised if they told us they were time travelers who came back from the twenty-seventh century than if they told us they cracked that nut."
RANDOM COINCIDENCE
Elizabeth Holmes's father worked at Enron.
---
By Michael Moritz, 1984
Most know Michael Moritz from his illustrious career at Sequoia but before joining the famed venture capital firm, he wrote this incredible book on the genesis and rise of Apple Computer in the 70s and 80s.
The details he gets from sitting in meetings with Steve Jobs before the launch of the original Mac are incredible. He had access to product development that never would've happened at Apple post-1997 and there's so many details I've never read before in any Apple or Steve Jobs.
The Little Kingdom also doubles as a history of Silicon Valley—how and why it grew into the Mecca of the tech industry and although it's out-of-print, it's worth getting on Amazon.
MARKETING COMPUTERS DIFFERENTLY
"We needs ads that hit you in the face. They've got to have visually high bandwidth. We have an opportunity to do an ad that doesn't talk about product. It's like we're so good we don't have to show photographs of computers
We don't stand a chance advertising with features and benefits and with RAMS and with charts and comparisons…It's got to be like a Sony Walkman or a Cuisinart. It's got to be a cult product." - Steve Jobs
TAKE MY MONEY
"If a man comes into my office and says he wants to be a millionaire, I'm bored to death. If he says he wants a net worth of $50 to a $100 million, I'm interested. If he says he wants to make $1 billion, I say, "Tell me about it," because if he comes close we're all going to clean up." - Don Valentine
---
SPORTS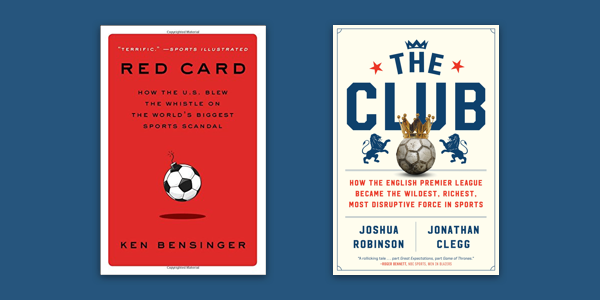 By Ken Bensinger, 2018
"In football there were 2 types of people—those who pay bribes and those who accept them."
Ken Bensinger's Red Card reads like financial classics Den of Thieves or The Predator's Ball as he covers the Justice Department's investigation into FIFA's rampant corruption in a page turning epic.
You see, FIFA is essentially structured to behave like a mafia.
When you combine decades of compounding hubris with FIFA's untouched power and a rapidly changing media environment that's able to sell the beautiful game to more people each year, you have the recipe for an incredible story.
For decades, FIFA's regional heads made media rights deals around the world for pennies on the dollar while pocketing the difference and thus, hurting the very players and constituents they were supposed to serve.
Think it's just a third-world issue of corruption and fraud? Think again! This even involved media rights in the United States!
It's almost impossible to describe how corrupt FIFA is but comparing them to SPECTRE should do the trick.
Still, it's impressive how well orchestrated FIFA's global fraud schemes worked…until they didn't.
This is a must read for fans of investigative journalism and sports.
"If the Justice Department wants to me, they know where to find me, I sleep very soundly in the night." - Jack Warner, former Head of CONCACAF, who surrendered to police three hours later.
BLATTER PROBLEM
Sepp Blatter's last "big project" was 'United Passions,' a $27 million film Blatter ordered to show the greatness of his FIFA.
It premiered three days after his resignation and it's entire box office run was $918, making it the lowest grossing commercial release in U.S. history.
…Awesome!
MARKETING MONEY —> BLATTER
The dawn of modern sports marketing began when Coca-Cola and Adidas inserted Sepp Blatter as a development officer of FIFA ensuring their monopolization of soccer for years to come.
---
By Joshua Robinson and Jonathan Clegg, 2018
Since its inception in 1992, the growth of the English Premier League is staggering.
REVENUE GROWTH
Since 1992, the Premier League's combined revenues have increased by an obscene 2500%.
FOREIGN GROWTH
When the Premier League was formed in 1992, there were only thirteen foreigners in the league.
When Arsenal unveiled Arsene Wenger in 1996, he was only the second non-British, non-Irish coach of the Premier League era.
---
SCIENCE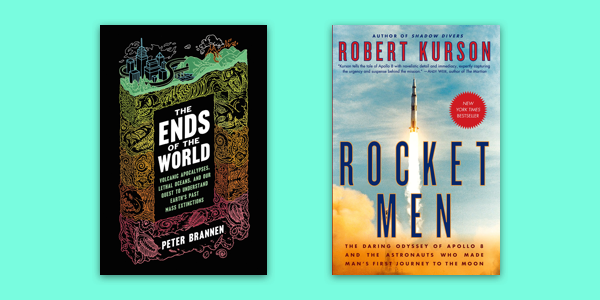 By Robert Kurson, 2018
"Neither a wise man nor a brave man lies down on the tracks of history to wait for the train of the future to run over him." - Dwight D. Eisenhower
What a feat of mankind it was to orbit the moon! That we accomplished it merely four months—against all odds is truly incredible!
The bravery and audacity of the Apollo missions is almost unimaginable in today's world and the way Kurson explains the complexity of orbiting the moon is Unbelievable.
It's incredible to think that NASA accomplished this orbit (and Apollo 11's lunar landing) with computers that had less processing power than a TI-83 calculator. These accomplishments serve as reminders that almost nothing is impossible.
I guarantee Rocket Men will be very hard for you to put down.
ASTRO-CELEBRITIES
Each astronaut received a contract with LIFE magazine that paid him $16,000 a year for exclusive access to his and his family's stories. Google the photos, they're pretty cool!
GREAT JOKE BUT THINK ABOUT IT!
"How does it feel to sit atop a vehicle built by the lowest bidder?" - Jim Lovell, astronaut.
---
By Peter Brannen, 2017
I don't read many science books but I'm glad I read this one!
If you're interested in earth's history, climate change, our future, geology, dinosaurs and other terrifying creatures, I highly recommend reading The Ends of the World.
p.s. the passage below is insane!
MIND-BLOWING PASSAGE
"The meteorite itself was so massive that it didn't notice any atmosphere whatsoever," said Rebolledo. "It was traveling 20 to 40 kilometers per second, 10 kilometers — probably 14 kilometers — wide, pushing the atmosphere and building such incredible pressure that the ocean in front of it just went away."

These numbers are precise without usefully conveying the scale of the calamity. What they mean is that a rock larger than Mount Everest hit planet Earth traveling twenty times faster than a bullet. This is so fast that it would have traversed the distance from the cruising altitude of a 747 to the ground in 0.3 seconds. The asteroid itself was so large that, even at the moment of impact, the top of it might have still towered more than a mile above the cruising altitude of a 747. In its nearly instantaneous descent, it compressed the air below it so violently that it briefly became several times hotter than the surface of the sun.

"The pressure of the atmosphere in front of the asteroid started excavating the crater before it even got there," Rebolledo said. "Them when the meteorite touched ground zero, it was totally intact. It was so massive that the atmosphere didn't even make a scratch on it."

Unlike the typical Hollywood CGI depictions of asteroid impacts, where an extraterrestrial charcoal briquette gently smolders across the sky, in the Yucatan it would have been a pleasant day one second and the world was already over by the next. As the asteroid collided with the earth, in the sky above it where there should have been air, the rock had punched a hole of outer space vacuum in the atmosphere. As the heavens rushed in to close this hole, enormous volumes of earth were expelled into orbit and beyond — all within a second or two of impact.

"So there's probably little bits of dinosaur bone up on the moon," I asked.

"Yeah, probably."
---
HUMANITIES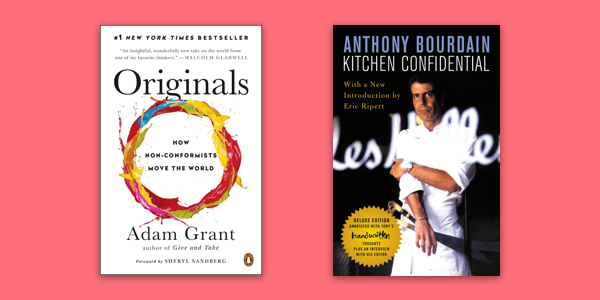 By Adam Grant, 2017
"Great spirits have always encountered opposition from mediocre minds."
- Albert Einstein
Originals is a great resource for creatives and creative teams looking for advice on how to create more (and better) original work.
Hint: Make a lot of stuff!
"If you want to be original, the most important possible thing you could do is do a lot of work. Do a huge volume of work." - Ira Glass
INSIGHTS
Ask for problems not solutions

Values > rules

The hallmark of originality is rejecting the default and exploring whether a better option exists.
On matters of style, swim with the current, on matters of principle, stand like a rock." - Thomas Jefferson
---
By Anthony Bourdain, 2000
Skills can be taught. Character you either have it or you don't. There's two types of people in the world: those who do what they say they're going to do—and everyone else
- Anthony Bourdain
Despite owning Kitchen Confidential for some time, I put off reading it for years. Many times, I heard from friends, "you don't want to know what happens in the kitchen" and I didn't…
But I'm very glad I finally read it.
Like many storytellers, I held Bourdain in the highest regard and still do.
Bourdain was a modern-day desperado, a Hunter S. Thompson type, a renegade…he was The Everyman.
He fought for what was right and was as real as it gets.
I loved his stories. I loved this book. I miss him.
—
Happy New Year!